Adventures in learning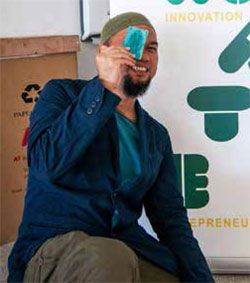 MD Indera followed his passion for language from an early age. He tells us about how his adventurous spirit led him to seek experiences he wanted even as a little boy.

Q: What are some of your earliest childhood memories of your love for language?
A: My earliest memory of my affinity to the English language was in primary school. My English language teacher selected me to read out loud in class. I enjoyed that. Then, I was put in a group called The Reading Club, and later made to become one of its leaders. We coached younger kids in reading.

My parents worked very long hours running a food stall. They encouraged us to be independent from young. I would go on my own to the Bedok library. I didn't come from a well-to-do family; we lived in a one-room flat. And so, I went to the library to watch videos because we didn't have all that multimedia at home.

Q: Aside from the library, where did you like to go after school?
A: I was a regular at the Bookworm Club. When I was in Primary 5, the Club came to school and invited students to join. On some weekends, I went to their centre at Selegie Road. The Bookworm Club was a good place to read in a very relaxed environment.

You could say that it was a very happening place in those days. It was free of charge. There was a reading corner that I liked. But, what I enjoyed the most were their recital contests. Adult facilitators helped us with our recitals of mostly short stories.

Early experiences affect who you are. For me, my childhood gave me confidence.

Q: What was school like for you?
A: I went to Towner Primary School and then to Bartley Secondary. English Literature was my favourite subject. I was doing very well until I got into the best class in Secondary 2. That was an eye opener for me because I was surprised that the students were smarter and were doing very well in all their subjects while I struggled in some. It was a very competitive class and not so friendly. So much so, I hesitated to raise my hand to inquire for fear of holding back the class.

For upper secondary, I chose the Arts stream after that because of my love for English Literature. I remember my favourite play was J.B. Priestly's An Inspector Calls. We had a very good Literature teacher. She didn't say much but she commanded a lot of respect. That is not easy to do in an all-boys school.

I stayed on my path of being passionate about Literature - in university, I majored in English Literature.

Q: You started working after university. Did your love for language influence you when you chose jobs?
A: Yes, I made career choices that needed language skills. When I graduated from university, I became a television producer for 2M Private Limited. We produced talk shows, entertainment programmes, and documentaries for TV where I was mentored by the creative celebrity Najip Ali! It was so different from school where the focus was the "O" and "A" level examinations. Producing TV shows uses language in a much fuller way.

After two years, I wanted more direct contact with people. And so, I became a teacher. For four years, I taught English Literature at West Spring Secondary School. The principal was very happy when the number of GCE O Level distinctions in English Literature rose sharply after that.

Q: You are not a school teacher any more though. Tell us about what you now do.
A: I enjoyed teaching but I guess I'm the type who likes new challenges. I decided to enter the training sector. I could still use my teaching skills and my love for language. Also, I have a sunny personality which works well for me. To equip myself, I attended an innovation and entrepreneurship programme at the California State University.

My company is called '98Ft' because the 9th of August is my grandfather's birthday as well as Singapore's National Day. Also, 98 feet symbolises a high level of learning. You can find out more about my work at www.98ft.co.

Learning from MD Indera
What is most striking about MD Indera's story is the courage he had to do what he wanted. He did not wait for his parents to take him to the library or the Bookworm Club. He did not even wait until his friends wanted to go. Instead, he went on his own, and benefitted from these after-school activities.

His confidence wavered in Secondary 2. But, he got over his fears about others being better than he was, and continued to excel in English and Literature. Having an inspiring Literature teacher would have helped. As a young adult, Mr Indera chose jobs related to his passion for language, communication and creativity. He was not afraid to go into less traditional areas of work and to make bold career shifts: from TV production work to teaching Literature to setting up his own training company.

Mr Indera's story shows us that self-confidence and knowing what you want can help you to realise your dreams. When there are difficulties, you can become stronger by facing them with the help of caring parents and teachers. Like Mr Indera, tune in to your strengths and interests as you make big decisions about your studies and, later, your work. And, being passionate about language can open exciting doors for you, too.

- MARY GEORGE

The series is brought to you by What's Up in partnership with the Speak Good English Movement of Singapore.