Reading for pleasure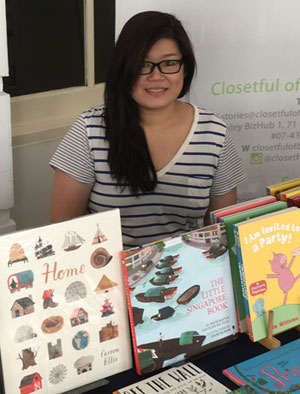 Denise Tan is a book seller. Her dream is to bring all sorts of great books to children so that they can discover the thrill of reading for pleasure.
Q: Your company is called "Closetful of Books". You must like books a lot. Do you remember when your love for books started?
A: I don't remember a time when I didn't love stories. I remember being read to when I was little by every one in my family. My grandma was a big reader but neither of my parents were the literary type.
I think I started appreciating the power of stories and books, really, when I was 10. That was when my family started falling apart, I was very, very chubby and didn't quite enjoy school at all.
Every recess, I would go to the library and pick up the new copy of Judy Moody or the latest installment in the Babysitter's Club and everything would be great! For the next hundred or so pages, I would savour living the best life possible.
I knew then that books were the best escape. My grandma used to give me an Enid Blyton book every week when she visited our home and that was before I could read independently. She would quite happily sit and read entire books with me.
I remember thinking how wonderful to be able to fly away on a wishing chair, to eat all sorts of popping candy and live in a place that always snowed. Of course, I was (and am) a really pragmatic Singaporean — so I knew that these things weren't particularly possible. But, for those few hours, the magic was the truest thing to me.
Q: In hindsight, did being such an avid reader help you?
A: Reading has afforded me thoughts, opinions and emotions that I would never have had if I didn't have books to give me a view of the wider world.
I think my life has been much richer from reading stories of kids who were just like me, kids who were not at all like me, of lands so unfamiliar, and solutions so novel.
Q: When did you realise that you wanted to work with books?
A: It was when I was 19 and in my last year at Ngee Ann Polytechnic. I was chasing a Diploma in Mass Communication, and was absolutely certain that I wanted to be a political journalist. There wasn't a smidgen of doubt.
Then, I took a part-time job with a little bookstore. All they sold were picture books. As it wasn't a terribly busy job, I could read at work. I read
Mummy Never Told Me
by Babette Cole,
Giraffes Can't Dance
by Giles Andreae and
Zoo
by Anthony Browne. And, I thought, "Oh, my goodness. What sophisticated and important stories these books tell for little kids."
By the time I graduated, I begged for a job with Bookaburra Books, a children's books specialist. Cheryl, one of the owners, told me that I wouldn't be a good fit with the diploma that I had. When I said that I would take any work, she hired me to help with the monthly newsletter, and fill in at the shop whenever they needed extra staff. And, that was where I started - first with the newsletter, then with working at the bookshops and roaming bookfairs. After three years or so, I helped to select books.
I loved being at Bookaburra. I had the best boss and I got to work with so many kids, teachers, authors and illustrators. It was where I learned about reading for pleasure, the role fun and contemporary children's literature played in literacy, and what being a bookseller really meant.
Q: What happened after that?
A: After working at Bookaburra, I worked at the library of the United World College. It was lovely being in a library. I could chat with kids about books without worrying about sales figures. But, I missed the thrill that came with bookselling too much. And so, I started Closetful of Books with my partner, Kelvin Ng, on Christmas Eve in 2013. Kelvin, whom I knew from secondary one, was going to be an engineer. But, we decided that we had to do this. We really wanted to be able to bring all sorts of great books into our schools for the kids to get excited about.
Learning from Denise Tan
We asked Ms Tan what advice she had for you. She says:
"Read everything that you enjoy. Reading is not supposed to be work. You are meant to have fun with the stories that you read. If you are not having fun, it means the book isn't for you. Put it down and look for another. With more than 20,000 children's books published a year, there is something for even the most finicky reader.
"Understand, too, your rights as a reader – you have the right to skip pages, to reread pages, and to shout out loud when you've really enjoyed a story.
"Take the opportunity to read widely and deeply. This means read as many different kinds of books as possible – graphic novels, non-fiction, narrative non-fiction, joke books, mysteries, adventures, fantasy – and read as many books in your favourite genre as you can."
You can find out more about Closetful of Books at
www.closetfulofbooks.com
.
- MARY GEORGE
The series is brought to you by What's Up in partnership with the Speak Good English Movement of Singapore.