Our first World Heritage Site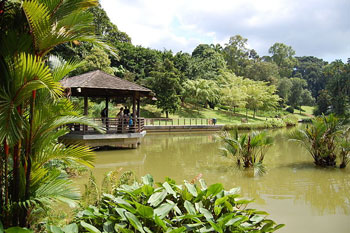 The Singapore Botanic Gardens has been chosen by UNESCO as a World Heritage Site. NG YI-SHENG explains why it deserves to be on this prestigious list.
Nigel Taylor is the Director of the Singapore Botanic Gardens. He loves his job. After all, he is in charge of the most visited botanic garden in the world. Every year, 4.4 million people walk through his gates to have picnics, play games of Frisbee or just hang out with their friends.
But, there is one thing that irritates him. People keep calling his gardens a "park". "I get quite cross if people call it a park," he said in an interview with the
Straits Times
. "It's a botanic garden, because a botanic garden has a very different function."
A botanic garden is not just a nice place to go and look at flowers. It is a garden that collects, grows and displays a wide variety of different plants, labeling them with their scientific names. In other words, it helps people to learn botany - the science of plants.
Dr Taylor is very proud of the scientific history of the Botanic Gardens. That is why he was very happy when its importance was recognised by the United Nations.
The UN Educational, Scientific and Cultural Organization (UNESCO) has a list of almost 1,000 places across the globe that it views as important to the history and culture of the human race. These World Heritage Sites include the pyramids of Egypt, the Great Wall of China and the central Amazon rainforest in Brazil.
The Singapore Botanic Gardens is now our island nation's first ever World Heritage Site.
A rich history
The story of the Singapore Botanic Gardens begins in 1859. In that year, a group called the Agri-Horticultural Society got permission from British colonial government to build gardens in the Tanglin area. After the colonial government took over the garden in 1874, its head decided that to transform it from a place of leisure into a botanic garden. He set up a library and a herbarium, which is a collection of plant specimens. He also set up the Economic Gardens, an area where people could experiment on how best to grow plants as moneymaking crops.
It was Henry Nicholas Ridley, the first official Director of the Gardens, who really made the Gardens great. During his service from 1888 to 1912, he used his office as a lab. He showed that rubber - a South American crop - could be grown easily in Malaya, and even came up with a way to collect rubber sap without killing the rubber trees.
By 1917, Ridley had given plantation owners in Malaysia 7 million rubber seeds. They were able to sell their rubber crops at cheap prices, making it easier for inventors to create new kinds of technology with the material - things like parts for cars and aeroplanes, as well as elastic for clothes. Without this all rubber, the 20
th
century would have been a lot less modern.
Rubber was not the only crop that was improved by scientists at the Botanic Gardens. Major discoveries were also made in the farming of oil palms, pineapples and coconuts. All these crops brought changes to Southeast Asia, especially Malaysia and Singapore. We became wealthier and more developed, and also attracted many immigrants from China and India - including some of our grandparents and great-grandparents.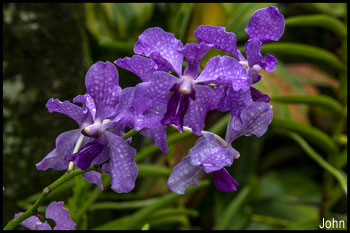 From the 1920s onward, the Gardens also started cross-breeding orchids to create beautiful new flowers no-one had ever seen before. 500 new kinds of hybrid orchids have been created so far.
These have turned out to be wonderful gifts for famous guests when they visit Singapore. For instance, when Prince William and Princess Catherine visited Singapore three years ago, the Gardens presented them with a purple polka-dotted orchid that was named in their honour: the Vanda William Catherine.
A place to study plants The collection that the Botanic Gardens started some 140 years ago is priceless. It has 41,000 rare books in its library and 650,000 different specimens in its herbarium. It also publishes a journal on botany, and holds training workshops for foreign scientists who want to study Southeast Asian plant life.
The National Parks Board makes use of the Botanic Gardens' collection in its plan to turn Singapore into "a city in a garden". It wants to improve the island's biodiversity, so that we have almost as many different kinds of birds, butterflies and flowers as we did before we became a modern city. To know what kinds of creatures are missing, biologists have to check the herbarium and library.
However, the most important work that the Botanic Gardens is doing might be education. Their exhibitions and school programmes teach young people the value of nature, and the ways in which we can try to save the planet from pollution.
So, the next time you visit the Botanic Gardens, don't forget that it's not just a place where you can enjoy the scenery. It's also a place of knowledge. It's much more than just a park.
This article first appeared in the June 2014 issue of What's Up. Updated and republished on this website in July 2015.